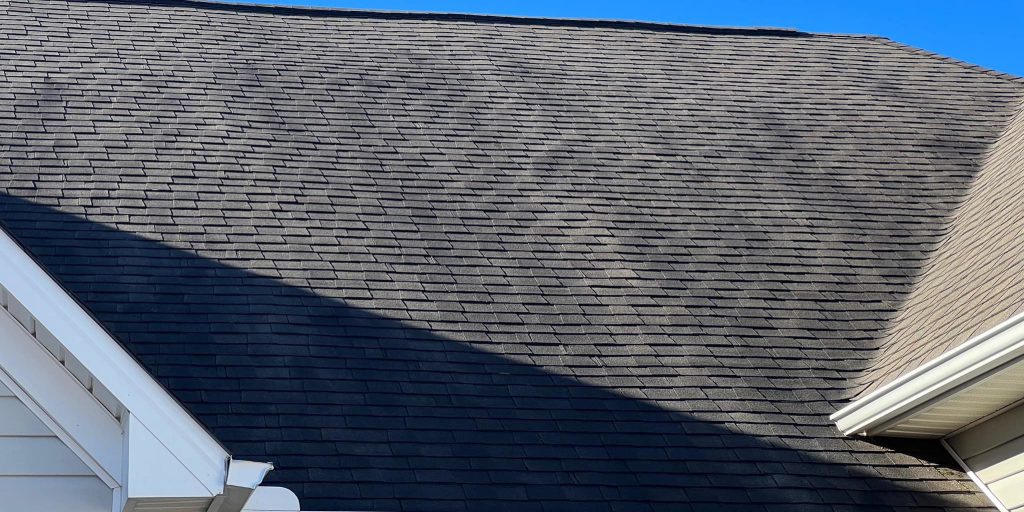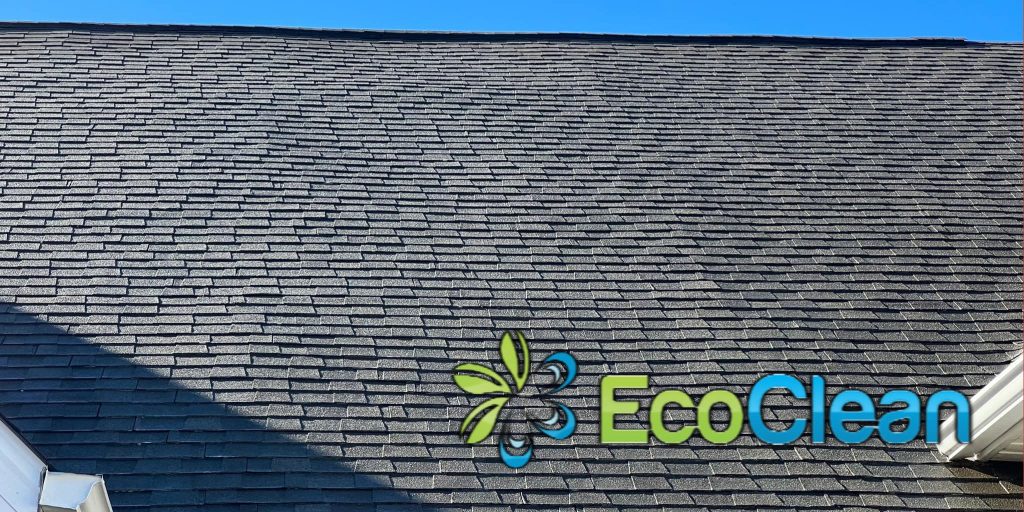 South Carolina Roof Cleaning
Does your house have a discolored roof? Ever wondered what those ugly black streaks are that are present on many asphalt shingle roofs like on the picture below?
We know exactly what causes this staining, and more importantly, how to safely remove it from your roof! These two pictures were taken the same, before and after our no pressure roof cleaning service.
The discolorations is simply a form of algae, a certain kind of algae called "Gloeocapsa Magma". This algae is rapidly spreading in the Southern area because of our hot and humid climate. It thrives off the limestone that's present in the shingle grit. You will normally notice that the staining starts either under a tree or on the north side. It doesn't take long for it to engulf your entire roof. Not only does this roof stain look ugly, it's robbing years of life from your roof!
Since this algae attacks the shingle grit, the grit comes off much easier. That's why it's very important to never allow anyone to pressure wash your roof. Pressure washing will remove the staining by removing the grit! Our system uses NO pressure – it's just as safe as a moderate rain fall. Our system generates less pressure then a garden hose, so you can be sure that we won't use excessive pressure.
Best In The Business Guarantee!
You are completely covered by our true 5 year streak-free guarantee when you choose our entire roof cleaning service. Because we have cleaned and treated the entire roof with our specific blend of detergents we are confident enough to offer you a full 5 year guarantee with no strings attached. If at any point within those 5 years organic stains return, EcoClean will clean and treat those areas at no additional cost to you. In fact, the roofs we clean stay cleaner for far longer then 5 years, but when you choose our complete roof cleaning service you're enrolled in this 5 year guarantee at no charge. EcoClean was the first to offer this guarantee and we still stand by it today!
We use a very special detergent, an algaecide, to kill the gloeocapsa magma at the root. This process only takes minutes. Afterwards the now dead organic material is captured at the gutters as it is rinsed off the roof and hauled away for disposal. Within just a couple of hours, your roof will go from discolored and stained to looking like a brand new roof!
Talking about a brand new roof, the cost of roof cleaning is about one tenth of the cost of replacement. Couple that with the understanding that roof replacement will soon be necessary if your roof goes untreated and it just makes sense to have your roof cleaned.
We regularly clean roofs with our no pressure system in the Greenville, Simpsonville, Anderson, Easley, Clemson, Seneca, Spartanburg areas. We service the entire Upstate of South Carolina.
Insurance Policies and Dirty Roofs
We don't use high pressure sales or scare tactics. However, we do want to keep you informed of dangers and possibly prevent you from any troubles with your homeowners insurance policy. We've heard of some homeowners receiving letters of cancellation for their insurance policy if their roofs are not cleaned. Roof replacement is extremely costly of insurance companies – and they realize that a dirty roof leads to a premature roof replacement. Check out this news clip highlighting this issue.
We can help! If you receive one of these letters, let us know. We'll arrange our schedule to get your roof cleaned safely and effectively before your policy cancels. Ideally, we can take care of your roof cleaning before you ever receive a letter.
If your roof has streaks, stains, or discolorations and you want to add years back to the life of your roof, or if you just want it to look like a brand new roof, give us a call. We'll come out onsite and provide you with a free written estimate. Call or text us today at (864) 608-5975 or email us at Micah@CleanGreenville.com.
Greenville's
most trusted

exterior cleaning service.