Lake Keowee
Window Cleaning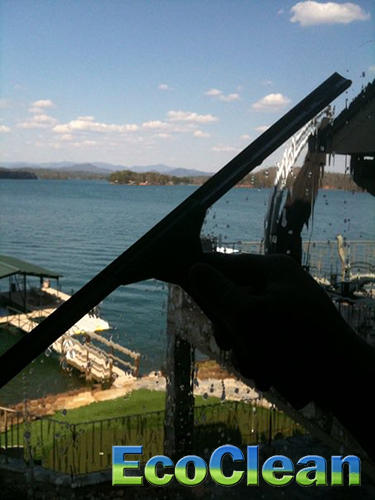 Greenville, SC House Washing
Window cleaning is one of the small things a home owner can do that makes a huge difference. If you're having a party, relatives coming to visit, or selling your home, you'll be amazed at how your house will look after a professional window washing. EcoClean uses both the traditional window cleaning method, like what's pictured above, and also the water fed pole method. The water fed pole method is for used for exterior windows and uses pure water along with a brush attached to a pole. No soap or detergents are used, so your windows stay cleaner for a longer period of time because there is no film to attract dust or dirt. Since we use poles we do not have to use ladders in many cases. This means the process is safer and quicker.
EcoClean cleans residential windows all over the Upstate area. A lot of our customers live on Lake Keowee and Lake Hartwell. We have the experience and tools to clean these lake windows properly. Removing all the spider webs before cleaning the windows is key to a successful outcome.
We offer our window washing service not only as a "one time deal", but also as a regular scheduled service. Our clients save money by scheduling either exterior or interior (or both) window cleaning either quarterly, every six months, or yearly.
You can use our "Instant Estimate" tool to find out how much your window cleaning service would cost.
Greenville's
most trusted

exterior cleaning service.