Greenville, SC
House Washing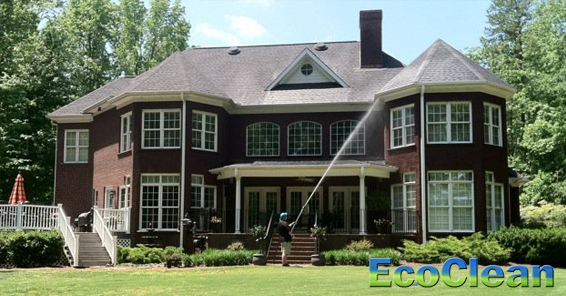 Greenville, SC House Washing
SoftWashing a house is hands down a better way to clean the exterior of a house compared to pressure washing. Instead of blasting off the dirt and algae, we use a gentle spray to apply our cleaning solution followed by a soft rinse from top to bottom. When we SoftWash a house, everything we spray on your house could be sprayed on our hands – it's that safe. There's no risk of forcing water behind vinyl siding or blasting mortar out of the joints.
SoftWashing can remove years of buildup and restore your home's exterior to a "like new" appearance. Within just an hour or two you can have instant curb appeal – you're neighbors will be asking you all kinds of questions. Our exclusive method removes algae, dirt, red clay, pollen, spider webs, dust, bird poop, virtually anything that isn't supposed to be there. We rinse the windows very carefully so as not to leave any soap residue or streaks. If you have the black "tiger stripes" on your gutters we can even remove those and restore your gutters to be as shiny as the day they were installed.
In the winter time we can heat our rinse water to about 80 degrees – this allows us to wash while it's too cold outside for others to clean properly. All of our equipment is professional trailer mounted machines. We don't need ladders in many cases when we wash your home using our SoftWash method because we can safely spray as high as 45 feet from the ground. This means we can clean the highest peak or gable on your house without using a ladder.
We offer our residential SoftWashing services to homes all across the Upstate area including Greenville, Anderson, Easley, Simpsonville and Seneca.
Try our "Instant Estimate" tool to get a free written quote within minutes.
Greenville's
most trusted

exterior cleaning service.