Greenville, SC
Roof Cleaning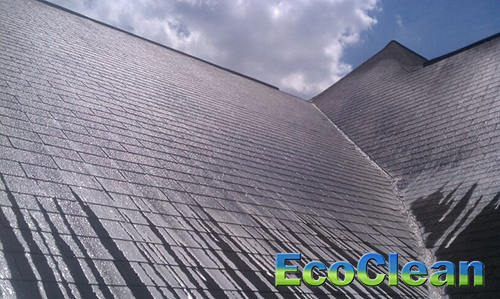 Greenville, SC Roof Cleaning
Here's a picture of a Greenville, SC roof cleaning in action. This is what your roof will look like while we apply our exclusive roof cleaning solution to your roof. Our no pressure roof cleaning system uses less pressure then a garden hose. We use special electric pumps to apply this solution. In many cases we can apply our roof cleaning solution from the base of the roof and never have to step foot onto your roof.
You can visit our roof cleaning page for more information about why we clean roofs in Greenville, SC. In short, roof cleaning is a necessity if your shingle roof is discolored or stained. This stain is a form of algae that's eating on your roof. If left untreated, this algae will totally destroy your roof and it will need to be replaced soon. Our system will safely clean your roof without the use of pressure, restoring the shingles and adding years of useful life back to the roof, and instantly adding curb appeal back to your house.
We offer our safe no pressure roof cleaning service to all areas of the Upstate of South Carolina including Greenville, Simpsonville, Easley, Anderson, Clemson, Seneca, and Spartanburg. Our SoftWash method can also clean many other surfaces, including the exterior of your home. Check out our "Instant Estimate" feature to get a free instant estimate! Greenville Roof Cleaning
Greenville's
most trusted

exterior cleaning service.